Thursdays are always an emotional day in Baja. Around noon we stand around in an oddly shaped circle and pass keys around. The keys belong to the brand-new house that is standing behind a Mexican family that is usually weeping with joy.
Each summer while we wait for the new school year to start and a new session of Life Coaching with our Sacramento students, we flee the heat of Sacramento and head south of the border for a chance to help our Baja branch of StudentReach.
This year I had the privilege of building for a very special family. It was a couple and their three daughters the youngest of which has leukemia. As a father of a 4-year-old and a 2 year old thinking of their 3 year old in hospital receiving cancer treatment choked me up every time.
So, as you can imagine this particular Thursday was quite emotional. We were handing over the keys to the father and two sisters of this little girl who is battling cancer. The Mom and Daughter were at the hospital in Tijuana 4 hours away and could not make the bus ride to be with us on dedication day. Instead, they were with us via speakerphone as the grandma relayed to the mother everything that was happening.
Amazingly, the group from the United States that was building for the Mexican family, was led by the father of a daughter that has had death pronounced over her before and should not have made it to where she is. He was able to share hope with the family. As we handed over the keys and cheered like mad people the father, Juan tried to hold back his tears as he thanked us.
Juan entered his family's home for the first time, and shortly invited us in for lunch. Now this always one of my favorite parts of the Thursday schedule. Usually the family makes some fried chicken, or pozole, or if I am really lucky tamales. This week we were in for a unique treat. Just like any father of three who has been taking care of two little girls while his wife is away Juan bought us pizza a soda. It was a unique meal in their new house but the perfect end to a perfect week.
We were able to connect two families born on two different sides of an invisible line but that have the same story. We were able to build Juan and his family a home. He and his wife had to make a choice between housing and healthcare for their daughter. They chose healthcare and were living with family sleeping on the floor. We were able to help them with their housing and give each of their little girls a bed to sleep on.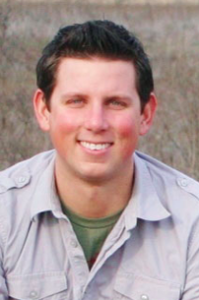 Adam Shipp 
International Programs Director